Listen
Participate
Join the conversation! Submit your life problems
anonymously
via our
contact page
or direct message us on
Twitter
or
Facebook
. Be sure to follow us on Twitter
@Radical_Advice
to tweet your thoughts and feelings at us during the show.
​Also, you can help support community radio by making a
contribution
to BFF.fm.
about
What?
Radical Advice is a weekly advice show mixed in with socio-political commentary, education about the human psyche, smashing the patriarchy, and lots of resistance (but not the kind therapists complain about).
When?
Where?
Why?
Because we're living in tough times and in order to respond to the shit being thrown at us everyday, we all need a little help sticking it to the man and taking care of vulnerable selves.
Who?
Lily Sloane - licensed psychotherapist with a

private practice

in San Francisco and host of the podcast

A Therapist Walks Into a Bar

.

Brian Thompson - associate marriage and family therapist with a

practice

in San Francisco who specializes in facilitating

men's groups

and working with individuals and couples to heal their relational wounds.

In addition, most episodes will feature special guests to help Lily and Brian stop bickering long enough to answer your questions.

​

How?

Magic, duh.
Powered by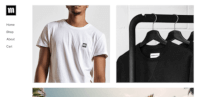 Create your own unique website with customizable templates.